Importance of Personal Branding :
If you want to make an impact in the world, how would you go about it?
Think about it for a few moment.
Well, know what the answer is? Ok, it is the telling of your story, and the impression people gain from your online reputation. Did you figure it out?
If no, then it is – Creating a Strong Personal Brand of Yourself.
Yes, crafting a strong personal brand can push your influence to new heights and set a lasting impression with those around you. Even if you're an entrepreneur, intrapreneur, volunteer or homemaker, having a personal brand is essential as it helps you define and establish yourself as a natural leader and sets you apart from others.

However, do you know what personal branding is and how to create or reinvent an awesome personal brand? Are you aware of its significance and about what lasting impact does personal branding have on your career success? Continue reading the blog article as you will gain insights on the above.
What is Personal Branding?
Personal branding is the method of marketing people and their careers as brands. It is an on-going process of developing and maintaining a reputation and impression of an individual, group, or organization. Whereas some self-help methods emphasize on self-improvement, personal branding defines success as a form of self-packaging.
How Can You Build an Amazing Personal Brand?

It isn't a question of whether your personal brand exists or not, rather it is the decision you make to cultivate and define your brand. But, does it say what you want it to say?

Here are six approaches to start building an amazing personal brand.

#1: Initiate thinking of yourself as a brand
#2: Inspect your online presence
#3: Secure a personal website
#4: Identify ways to generate value
#5: Be determined in what you share
#6: Connect with other strong brands

Additionally, do remember that a strong personal brand must be omnipresent and differentiating (always).

How to Reinvent Your Personal Brand?

Defining and building a personal brand is no easy job. And no matter where you are in your career, to be known for something better or something different you need a change, a Personal Brand change.
The solution to reinventing your brand is to assure others to welcome it.
How? Implement these following 5 steps to brand reinvention:
Step 1: Define Your Destination
Step 2: Influence Your Points of Difference
Step 3: Build a Narrative
Step 4: Reintroduce Yourself
Step 5: Demonstrate Your Value

Personal Branding Significance and its Impact on Career Success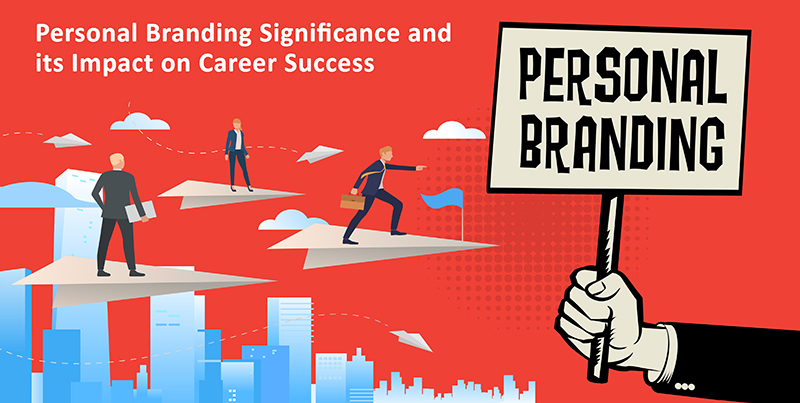 At this point, it's established that personal branding is vital for a number of reasons.
It offers a clear focus for personal development while establishing yourself as a thought leader. It also works wonders for career success, allowing individuals to pursue whatever it is that they're passionate about and has the potential to launch a person to new heights.

What's more, taking control of your personal brand, on the other hand, puts you in the driver's seat. You get to control the narrative and help people believe they know about yourself in the best possible light rather than in some detrimental way.

Here's how personal brand can jump start your career success and leave a lasting impact:

When you create a personal brand you need to focus mainly on yourself. Your image, voice, and presence are all that matters. When you're true to yourself, and try to exude as much authenticity as you can, people will notice.

Pay Attention to Your Online Image
If you're unsure what your online presence looks like, it's time to do a clean-up of all your social media and online activities, to make sure that they match up with your brand and paint you in the best light. Staying on top of it and going back through those social media feeds will guarantee you have a better image, and thus a top-notch personal brand.

Personal branding is all about marketing yourself properly. And one way to do this to ensure that the narrative you're presenting is consistent, unique, and personable. Emphasize on putting your authentic self out there, and your brand will undoubtedly resonate.

Final Thoughts

Personal brand helps you stand out from everybody else. If you wish to become truly influential then consistency and being adept at selling your story to the people is the key. Once you achieve this, no one can stop people from doing business with you.

Want to Craft or Reinvent Your Personal Brand Digitally? Visit www.yourprofilecard.com today!!!